Your deep affection for yoga has led you to pursue your very own yoga instructor certification. The mind-body fusion, the centering, the limbering, the spiritual experience, the floating feeling after the class. That's what you're after, and now you want to set out to feel that as often as possible and help others do the same. Becoming a certified yoga instructor is most aligned with this goal.
Like you, most who want to learn how to become a yoga instructor typically go into the practice because of their devotion to the exercise method. It's more about personal fulfillment than anything. In fact, at the beginning, you'll pay, instead of being paid, to become a yoga instructor with the various yoga instructor courses required to become a certified teacher. However, the effort is worth it to be able to teach safe, effective classes and get deeper into your practice.
If you approach becoming a yoga instructor strategically (not something you usually associate with a free-spirited yogi), making a living as a yoga instructor is entirely possible.
So, how much does a yoga instructor make?
Let's see what a typical yoga instructor salary looks like:
Do you think that becoming a yoga instructor salary means living on pennies? That's what a lot of instructors believe, but you don't have to!
Payscale estimates that yoga teachers should expect to make an average of $24.00 an hour or a salary of $36,637. Assuming you work 50 weeks out of the year, with two weeks of unpaid vacation, you would make $732 per week. And to hit $732 per week, you'd have to:
Make $50 per class teaching three classes per day for 5 days

Make $34 per class teaching three classes per day for 7 days

Make $37 per class teaching four classes per day for 5 days

Make $26 per class teaching four classes per day for 7 days
Doable, right? Broken down in multiple different ways like this, you can start to visualize how you might tweak this structure to fit your own schedule, lifestyle, and fee expectations.
But if you wish to be more strategic and scale your yoga business, we will show you a path that moves right around this pricing structure.You need to think beyond the yoga studio and the trading-time-for-dollars framework to really see the opportunities for a successful yoga business.
First things first. You need to believe that making a successful living as a yoga instructor is possible and create a mindset of abundance around it.
Set an intention to improve your mindset
As a yogi, this part about setting your intention will probably resonate with you the most. If you ask part-time yoga instructors, look around at forums, and read through comments on how much yoga instructors make, you're going to hear a lot of griping about how teaching yoga is only good for extra pocket change.
The thing is, you need to tune this type of person out, turn your attention where people are crushing it, and learn from them. Find them in Facebook groups, online communities and yoga seminars. Because it's absolutely possible to become a successful yoga instructor if you're strategic, you focus your attention on the right things, and you study what other successful yoga entrepreneurs are doing.
If teaching yoga is what you're meant to be doing, you need to find a community that is making it happen and fill your mind with all the possibilities, not the scarcity. You need to cultivate a spirit of community and giving freely, not one of competition and hoarding your best ideas.
Your intentions should be fueled by your authentic passion.
Daily personal development work is also a great way to cultivate your relational skills and improve your mindset every day. Fifteen minutes a day of reading or listening to a motivational podcast is enough to enhance your life and outlook a little bit every day.
An optimistic, opportunity-focused mindset will be the first step to cultivating a living as a yoga instructor.
From there, you'll want to make sure you fill your classes
On a practical level, teaching yoga classes in one way or another is going to be the focal point of your job, otherwise you wouldn't be called a yoga instructor, right? And to really make it as a yoga instructor, you need to fill those classes. In order to fill your classes, you need to focus on marketing and community-building.
By marketing, I simply mean getting word out about your classes. You need to get your name out there as much as possible to become the "go-to" yoga instructor for your area or online.
Some marketing ideas specifically for yoga instructors include:
Asking for referrals

and offering discounts to current clients for referring friends and family. Referrals are the top way to bring people through your doors and get people excited. You might even consider holding a "bring a friend" night to help enlarge your client scope.

Building an online presence.

If people want to "look you up," they need to be able to find you quickly and easily online. If you're not online, you're invisible and you're missing a monumental opportunity to reach new clients.. To be visible, you need a website and you need to be registered with local directories, such as your Chamber of Commerce.

Building out your social media platforms.

Having a presence on Instagram, Facebook, LinkedIn, Pinterest, and Twitter is the most effective, free marketing method available to you. Make time every day to make an effort with at least two of these platforms. You could even automate the posting process with tools like Hootsuite. Make sure you use a consistent brand voice and visual look so people begin to recognize your style right away.

Build a tribe of fans.

Start with your client roster and move out to your social media following and your subscribers to build a loyal following. Yoga personalities like @kinoyoga and @yoga_girl are rocking it on Instagram. Study what they're doing and try some of their strategies. Later, when you start building multiple income streams, you'll have this huge, fertile fan base to market to.

Start a blog.

Adding a blog to your website is one of the best ways to increase your search engine rankings, drive traffic to your website, demonstrate your expertise, build credibility and a myriad of other things. Your blog is another platform to market your business and create new sales opportunities without any added advertising cost.
In addition to marketing, you'll want to work on community-building to fill your classes and increase your reach.
Ways to build a solid community: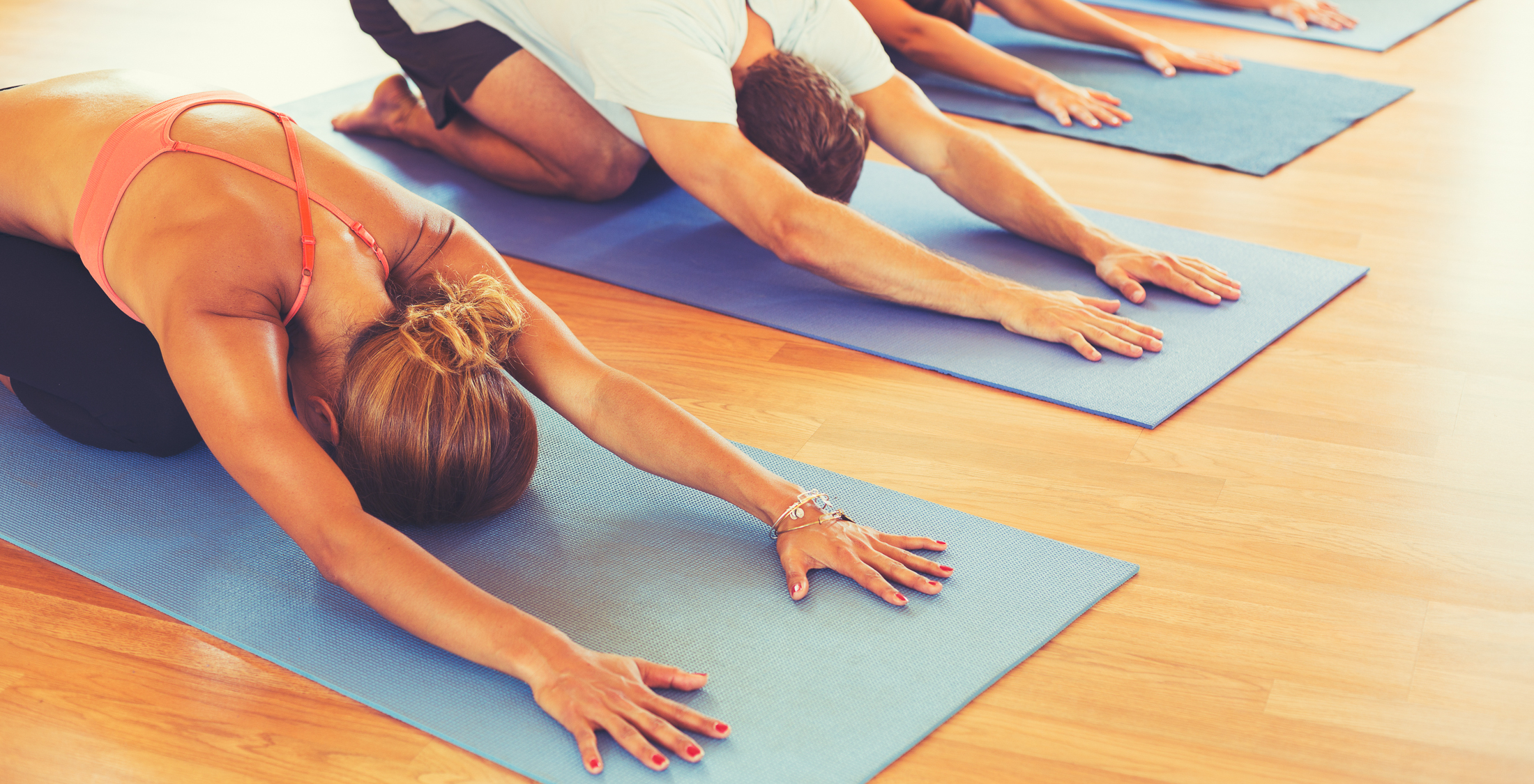 You're probably already aware that people don't just come to your class for the exercise. They come for the camaraderie, the spiritual fulfillment, the connection, the entire experience. People want to be a part of something bigger than just the workout.
Your job in being a yoga instructor is to create a superior experience product out of your classes. You need to think beyond the curriculum and the playlist and figure out what brings people together and what they really want so you can use that to reach even more people.
What do people want to feel in your class?
Like they're worthy and accepted.

Peace, joy and happiness.

Like they're part of something exclusive.

To be in-the-know.

To feel taken care of.

Like they're part of something bigger.

To form lasting bonds.
How can you give it to them?
Make sure everyone that steps a bare foot into your studio is welcomed with open arms and integrated into your "club." Shake their hand, get to know their name, and introduce them to your "regulars." Make sure no one feels the need to hide out unacknowledged in a corner.

Make your sessions feel like a party. You know why SoulCycle has such a cult following? Because of the environment. The smell, the dancing, the vibe, the camaraderie. They have a way of making every workout feel like a party. Find ways to incorporate some of your own party elements into your workouts. Make your yoga sessions feel like an "om party." Perhaps you could warm up with a mini freestyle drum circle or create dramatic mood lighting to create the party effect.

Keep a high vibe energy in the room. Your students want a teacher who is charismatic and uplifting. Make every effort to preserve that positive energy in the room. Yoga class isn't the place for complaining or gossip. It's a place to become a better person, inside and out.

Use mantras and affirmations to give everyone something uplifting to focus on and leave them on a high vibration when they leave.

Be available before and after class to chat with your clients and coach them. Your students are going to want to make a genuine connection with you, not just attend your class and leave. So give yourself a little time before and after class to make small talk, answer questions, and be available.

You may even consider holding mini post-workout events such as a "coffee corner" where people can pick your brain and get to know you better over a casual mug of coffee.

Create your own secret VIP experience for those who want to take their yoga to the next level. You can create exclusivity around these high-level classes and charge more for them. You're always going to have a few select people that will want to take their yoga practice to the next level or have you all to themselves. Create a next-level training opportunity just for those people.

End each class with an exercise such as a hand-holding meditation where everyone transfers their high vibrations to everyone else in the room. This is an incredible bonding experience for everyone involved. It's a way to forge deep connections and remind everyone that we're all interconnected.

Refer to your students by a unique name. For example, you might call them warriors or eagles, based on yoga poses. You could even use that name in a hashtag to help people in your community find each other. This strategy gives your students a common connection and makes them feel like they're part of something together.

Hold a special class on occasion where all members can bring a friend. Then more people get to share the experience together.

Keep your clients up-to-date about what's going on in your classes and the world of yoga with a weekly newsletter. Keep your fingers on the pulse of your industry and share what you know so your clients can tell you're in-the-know.

To make people feel like they're part of something bigger, incorporate online classes into your repertoire to build your following. People love to be a part of these big online communities.

Another way to make your members feel like they're part of something bigger is to give back. Take donations for one week to support a cause close to your heart or give a portion of your class proceeds to a certain charity.
A yoga instructor should also think beyond the yoga studio
Regular studio classes are pretty standard for yoga instructors, and there's nothing wrong with that, but you don't want to be like everyone else, do you? If you're looking to forge your own unique path on becoming a yoga instructor, you might consider some other profitable teaching options:
Online classes: the number of students you can teach reaches far beyond your zip code when you add online streaming options to your repertoire. Programs like Skype, Google Hangouts, Periscope, Facebook Live and Zoom make this possible.

Produce a DVD or downloadable workouts: you can teach even more people through digital products.

Private in-home clients are a very lucrative source of income for a yoga instructor. These types of clients are typically willing to pay a premium price to have these exclusive services.

Offer premium services above and beyond class time. Perhaps you can open private mentorships for aspiring yoga teachers or personalized coaching sessions for current clients.

Host retreats and workouts. You can reach a large group of people with yoga intensive weekends or speaking events. Plus, the larger the crowd, the larger the stipend.

Corporate yoga programs. Corporations often offer a set price for classes, no matter how many people show up, and that price is generally more than adequate. Corporation contracts are stable, predictable and profitable.

Work location-free. Local botanical gardens, parks, museums, churches and other buildings make great settings for yoga. Cut the overhead cost and transform the entire environment of your yoga classes by holding them at unique locations.
Set up multiple income streams
Although teaching yoga, either in a studio or elsewhere, is the foundation of your career, there are additional ways to supplement your yoga instructor salary outside the classroom. The best way to scale your yoga business is to create multiple, mostly passive, income streams. That way, you can be making money even when you're not in class and you can start to scale your income. Think beyond the yoga studio.
Some additional income-generating ideas for yoga entrepreneurs:
Sell your curriculum designs and playlists to other instructors. Just like teachers sell their lesson plans, you can sell your own yoga curriculum on your website.
Sell branded merchandise such as books, DVDs, clothing, and mats.
Start a blog and incorporate ads and affiliate marketing onto your site.
Create and sell written yoga lessons on Teachable or Udemy.
Offer downloadable digital products such as audio sequences, meditation audio, music, or mantra/affirmation cards. You can do this on your own site, or check out options like Audible Yoga.
Produce ebooks or study guides to help people gain a better understanding of the yoga that you teach. These are great for supplementing people's knowledge. You might also produce a book about how prenatal clients can modify exercises or about how people can work up to and nail difficult poses like the crow or the handstand.
Sell online streaming video memberships so people can try your class from their living rooms.
Create an online membership program: you could offer a weekly call with your clients and other perks for being part of your exclusive members-only party.
Yoga instructor training: if you have a specific training model that you use for your yoga classes, you can put together your own yoga instructor training program. All you can yoga is one organization that helps you turn your yoga instruction into a certification program.
Write articles for a yoga magazine, website or newsletter.
~These are all great ways to build in extra income streams while simultaneously building your online presence and community.
One final piece of advice to really rock your yoga business:
Become the best yoga instructor around
To make an even better living as a yoga instructor, you need to be a standout instructor. How? Become a voracious student and specialize in one or several things, such as Bikram yoga or yoga for runners. This may be required to maintain your yoga instructor certification anyhow, so you might as well develop your expertise in new areas.
Learning everything you can about your craft and related practices (meditation, breathing techniques, etc) will make you a leading expert. It will provide a way for you to stand out and be seen as THE go-to expert, especially if you live an in area with a flooded yoga market.
On top of learning everything you can, make sure you put what you're learning into regular practice too. The more you teach, the better you'll get at teaching. You'll want to get as much practice as you can to be the best teacher you can be.
Branding is another key to standing out. You need to create a brand picture that is completely unique and recognizable. If the lotus flower and mandalas have become overused for yoga branding, choose a different symbol. Maybe there's a cool ritual you do before or after class. Maybe everyone gets a special headband to wear for class, or you diffuse a certain essential oil blend in the studio to help your students form a strong mental association. These are all really great ideas to incorporate into your branding strategy.
You need to make your business memorable and create a name for yourself. You need to make yourself and your brand visible, and you need to bring something unique to the studio that people can't find anywhere else.
The very last thing you want to do is be the same as every other instructor out there where no one could pick you up in a lineup. You want to be the guy with the wacky hair, the giant sunglasses, and the neon yellow shirt swaying to the beat of an unknown drum. Not literally, of course. But you want to be the yoga instructor that stands out, that everyone remembers. You want to call attention to yourself in a genuine, relevant way.
If your ultimate goal is to make a living as a yoga instructor, you have everything you need inside of your to make that happen.